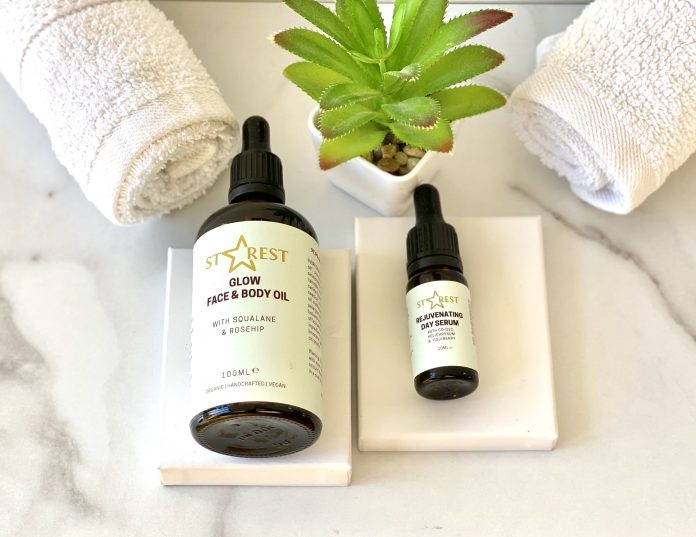 Unchecked beauty formulas and untrustworthy concoctions can have numerous long term effects on your general health and wellbeing. But if you're fed up with investing in skin and hair care solutions that don't work for you, or you're unsure of the active ingredients in the products you use, now is the time to pause and choose a brand that is completely honest about the ingredients in their products and formulated by people with the qualifications to ensure their products are of the highest quality imaginable.
Starest Natural Skincare is an organic hair and skincare brand founded by Esther Julius, a qualified specialist nurse with a diploma in natural skincare and haircare. We recently caught up with the business owner to hear about the inspirational story that led to the birth of her one of a kind brand.
"My journey started in 2015 when I started researching the ingredients in my skincare products. I discovered a lot of them were full of chemicals and toxic ingredients which are not only harmful to the skin but are also linked to cancer, obesity, infertility, hormonal problems and respiratory issues. I used commercial products containing harmful chemicals which were causing skin irritations and discolouration. I got tired of trying different products and experiencing certain skin issues over and over again. I became really uncomfortable about the ingredients in my skincare products due to their potentially harmful side effects. As a qualified specialist nurse, I knew the long-term significant impact this could have on my health."
"My quest for safer skincare products soon became an interest that grew steadily and turned to my passion. I started making my own natural skin care products to avoid toxic exposure and to give me control over the ingredients that go on my skin. After completing a diploma course in natural skincare and haircare along with sleepless nights perfecting my formulas, Starest was created to give people a natural and organic alternative to chemical-laden commercial skincare products".
Talk about turning lemons into lemonade! Starest was created for people who want to live a healthy, chemical-free lifestyle, and the brand's main goal is to promote health and wellbeing in your daily skin routine. With an expansive product range, we have no doubt they will have something on your wishlist (even if you don't know it yet), so to help you get started, here are a few of our favourite products:
Revive Hair and Scalp Oil: This must-have hair oil is packed with vitamins, antioxidants and nutrients that are ideal for strengthening weak hair, nourishing your hair and scalp, reducing breakage and preventing dandruff. The best part? It is suitable for all hair types!
Glow Superfood Clay Mask: A blend of natural clay, superfruit powder, vitamin c and essential oils, this nighttime essential is super effective for reducing inflammation, detoxify, cleanse, purify, tone, rejuvenate and nourish your skin leaving you with a healthy radiant glow. It is suitable for oily, acne-prone, and inflamed skin types.
Coffee Orange Body Scrub: Say hello to healthy glowing skin with this organic body scrub. It helps to hydrate and nourish your skin, reduce the appearance of cellulite, scars and stretch marks and also eliminate breakouts and blackheads.
Rejuvenating Day Serum: Rejuvenate your skin with this luxurious face serum formulated with essential oils that are rich in antioxidants and vitamins to nourish and hydrate your skin, leaving you with smoother, brighter and firmer- feeling skin. Suitable for all skin types.
Starest hopes to become a worldwide organic brand that makes products that are consistent in quality and at affordable prices. So, if you are looking to use chemical-free products whilst enjoying your skin and hair in its full potential, then Starest is definitely for you!
Stay up to date with the brand on Instagram @starest_naturalskincare and get your hands on these must-have products on www.starest.co.uk