As much as the buzzing sound of the alarm clock can be quite annoying, let's be honest it has and continues to be very helpful in our lives. In 2014, Josh Renouf designed the world's first coffee making alarm clock, the Barisieur. Now isn't that interesting?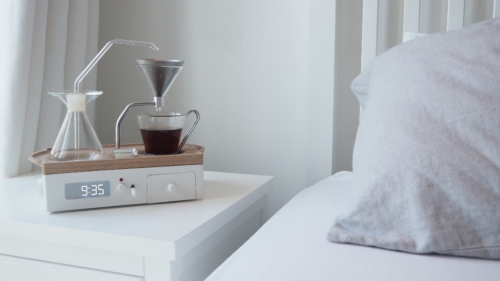 Initially described as a fun science experiment the Barisieur was designed to reinvent the user's morning routine.  The Barisieur combines our most common morning stimuli, the alarm clock and caffeine. A marriage of imagination and innovation and built with exceptional materials such as sustainably sourced walnut designed to age beautifully.

The Barisieur's role in your perfect morning begins the night before. The preparation helps ensure relaxation through ritual, encouraging a restful night. When morning comes, the fragrant aroma of coffee brewing and the gentle bubbling of the water will gradually awaken you, gently stimulating your senses and leaving you refreshed to face the new day. You can set the coffee to brew before, after or during your alarm call, and the elegant design is as at home on your desk as it is the bedside table.
After many design developments and continued refinement the Barisieur is now ready to go live on a brand new kickstarter page.
Support Josh on this amazing endeavour and get the Barisieur into production!